Photo: City of Vaasa / Christoffer Björklund
This article presents a thesis of the Vaasa Student Guide Mobile Application, developed using Flutter. When students move to a new city, they often experience a mix of excitement and challenges. In addition to their academic pursuits, it is crucial for students to have a holistic experience by discovering places to socialize, relax, and make the most of their time beyond the confines of the classroom. To help students to integrate to Vaasa, a mobile application was created with the aim of providing a comprehensive guide to the city. The application, named Vaasa Student Guide, has been published on the Google Play Store and is fully functional, although content creation is still in progress.
Features of Vaasa Student Guide application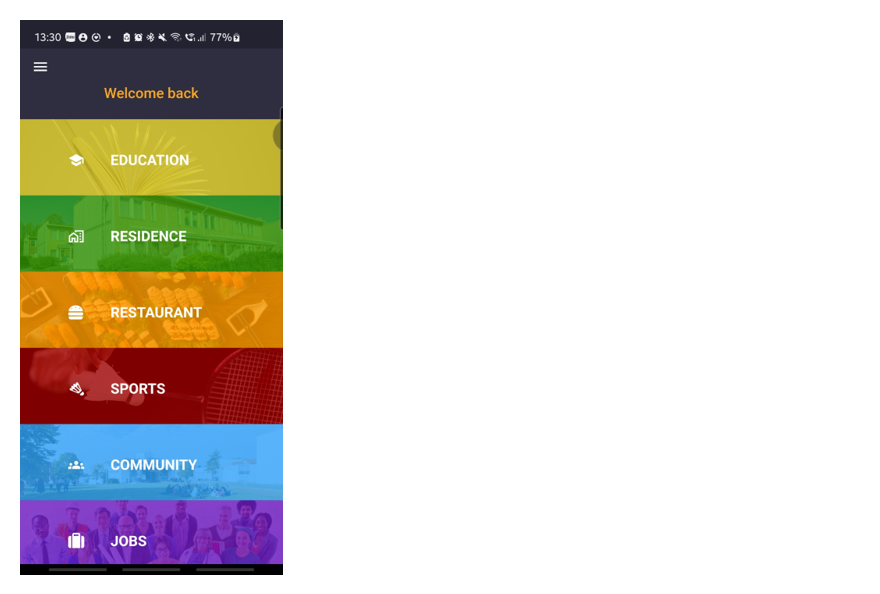 The purpose of the application is to enhance the convenience and comfort of new students living in Vaasa. The developed app serves as a platform to connect students with the best places for dining, socializing, engaging in sports activities, as depicted in Figure 1. In the community section, the application provides information about various places and social media platforms, enabling users to learn more about Vaasa and meet new people. The application displays addresses, websites, and contact information for these locations and social media accounts. Additionally, users can easily contact the places mentioned in articles by sending emails, visiting websites, or making phone calls with a single tap on the screen. The map feature allows users to zoom in and out and provides navigation guidance to the mentioned places in the articles. Furthermore, users have the option to bookmark articles, eliminating the need to search within specific categories when they want to revisit them. Figure 2 illustrates an example of a VAMK-article.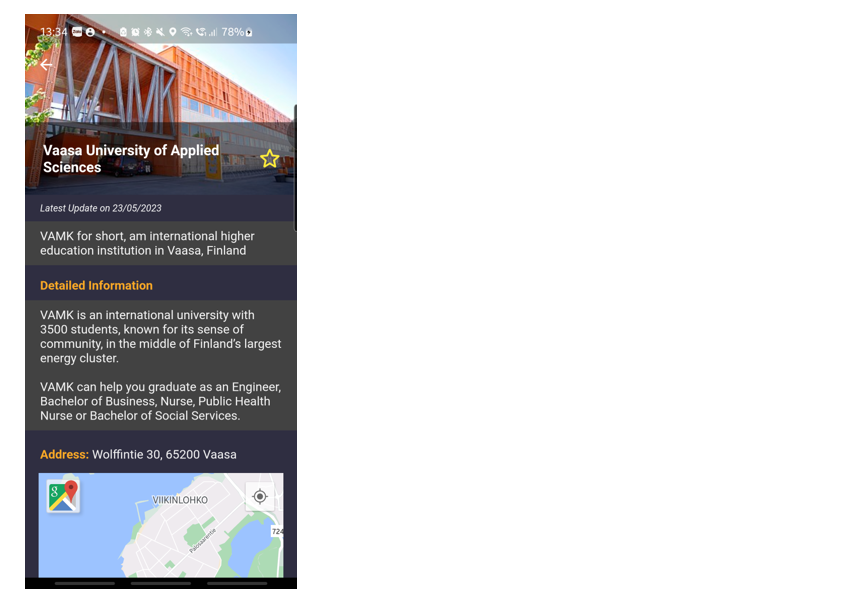 The application has also Admin-mode, which allows Admins to add, modify and delete the articles. With restricted editing, the content can be kept clean and only valid information is shown in the application.
Conclusion
The developed mobile application aims to enhance the student experience in Vaasa by providing a comprehensive guide to local places. From cafes and restaurants to sports facilities and recreational spots, the app empowers students to make the most of their time in the city. By facilitating social connections, promoting well-being, and providing a platform for sharing experiences, our app aims to create a vibrant community and help students in creating lasting memories during their time in Vaasa. Whether it's enjoying a delightful meal, sipping coffee with friends, or exploring new sports activities, the Vaasa Student Guide app is the ideal companion for students seeking to discover and embrace all that Vaasa has to offer.