"Coming together is a beginning, staying together is progress, and working together is a success." – Henry Ford
Getting there
It took us about 9 hours to get from Vaasa to Den Bosch. We took off from Vaasa to Helsinki on Monday morning November 15th at 10:35. Two landings later we found ourselves at the Schiphol airport in Amsterdam. After a short pizza break, we took a train to Den Bosch and checked in at our hotel in the evening. The journey went well even though the COVID 19 pandemic was getting worse. There was a small cloud of unrest in the air since we were not quite sure how the situation was in Holland and it was quite tiring to wear a mask during the whole trip. It was also necessary to have your Corona passports on hand at check-in for the flights. We had pre-booked a small hotel very close to the train station and not far away from the campus of the Business School of Avans UAS. It proved to be a nice small hotel with a family atmosphere and good service. We slept like logs and had a nice breakfast the next morning before we had a 1 km walk to the campus passing through the train station.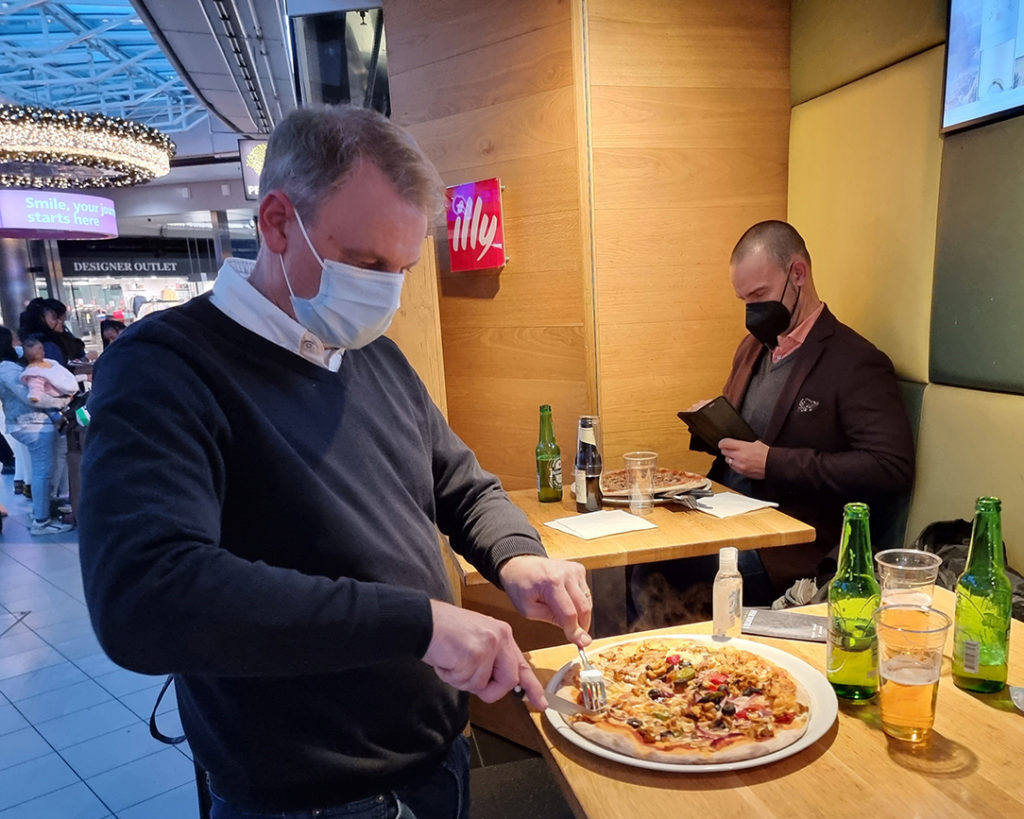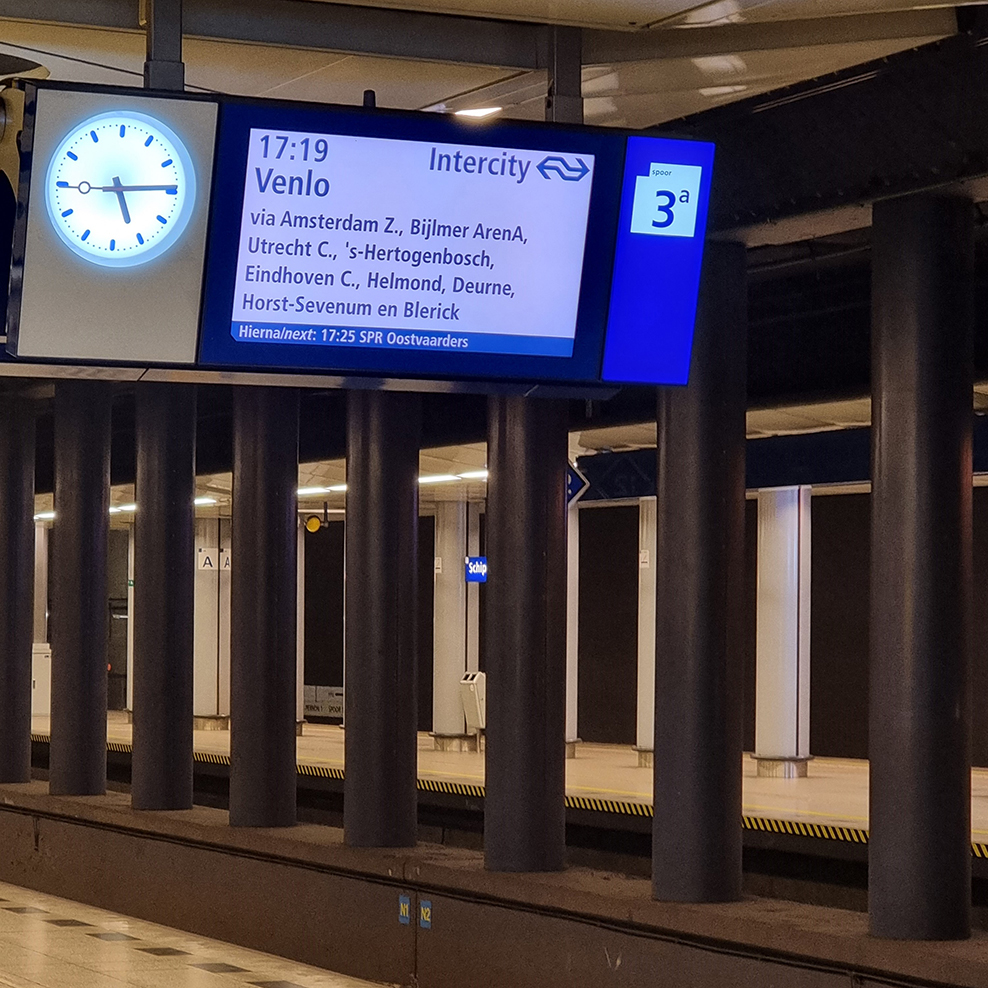 Meeting up
On Tuesday morning we started with a meeting with Paul van Miert, the Vice Dean of Academy HRM and Business Management, together with some of the Avans staff members. We were discussing the visit and the significance of this collaboration. It was important to meet up with the operational decision-maker in person.
After a short break, we continued with pedagogical discussions about the differences between Finnish and Dutch learning styles and the importance of feedback. Niels held the threads meritoriously and we had some serious discussions and some laughter. It was a fruitful workshop. We knew each other from the collaboration during the Spring 2021 edition of the minor and it was nice to ventilate one´s thoughts and get new impressions. Did you know that there is more to feedback than just "feedback", like "feed-up" and "feed-forward"? Furthermore, it is important to reflect on in which stage the students are and to distinguish between different levels, which are "task", "process" and "self-regulatory".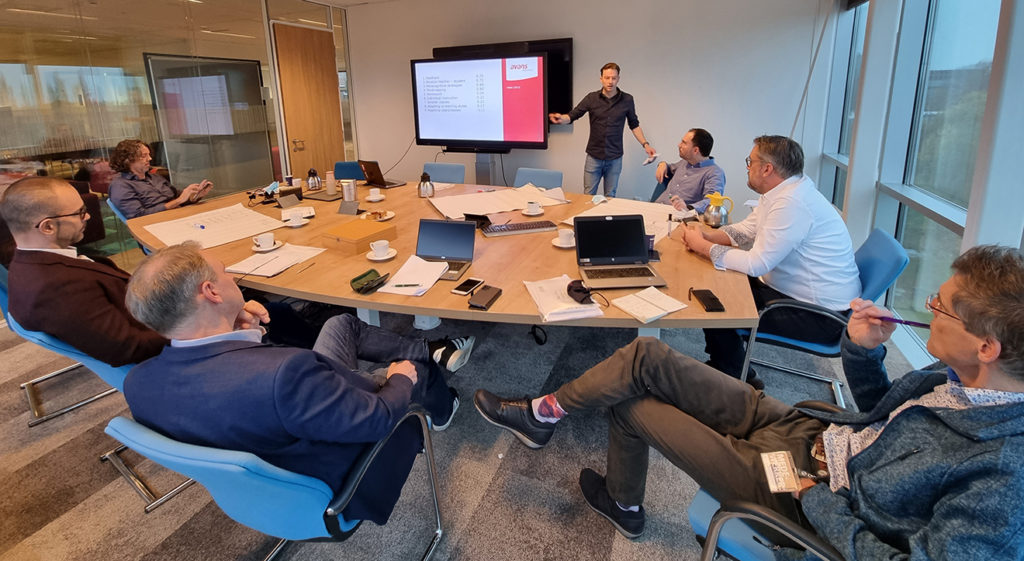 Before the lunch break, we still had time for the actual kick-off of this intensive week. After welcoming words from Paul van Miert, the student teams were introduced to the program for the week by René. The social event for the day was a cultural event, a city walk, including control points with questions. Later that same evening all the teams gathered in the same place, in a restaurant that was open only to us, and Niels and René acted as judges and a winning team was announced. A nice end to a nice day- The students probably found ways to continue the evening. We went for a really tasty hamburger at Bar35 with a beer or two and strolled back to the hotel for a good night's sleep.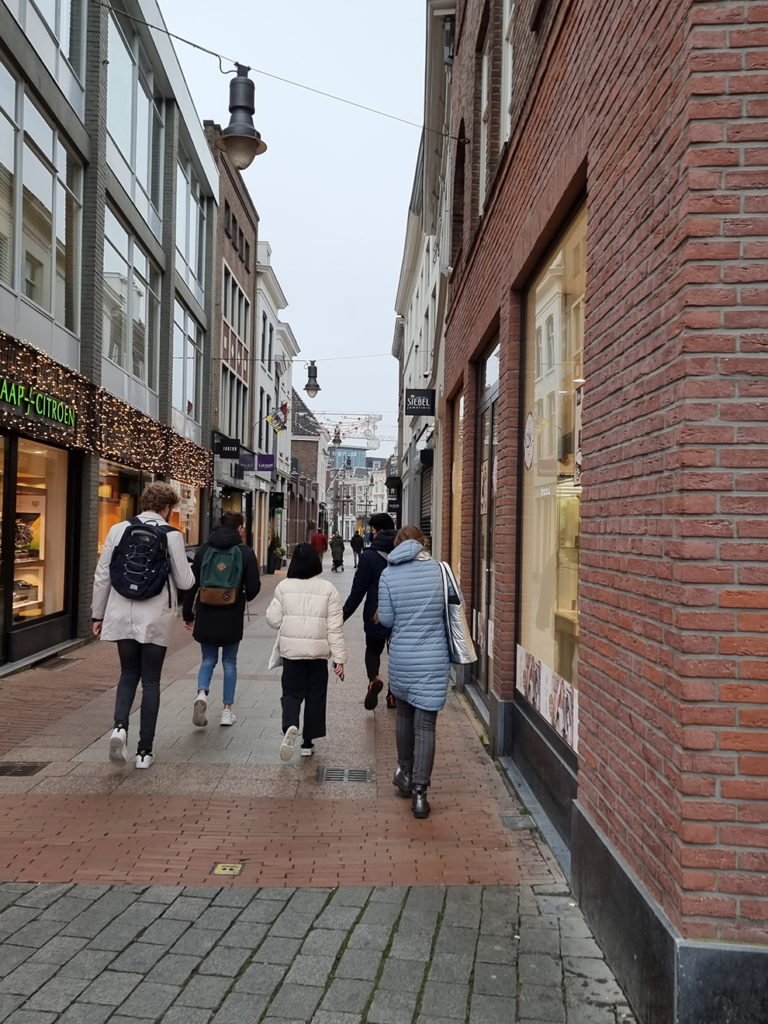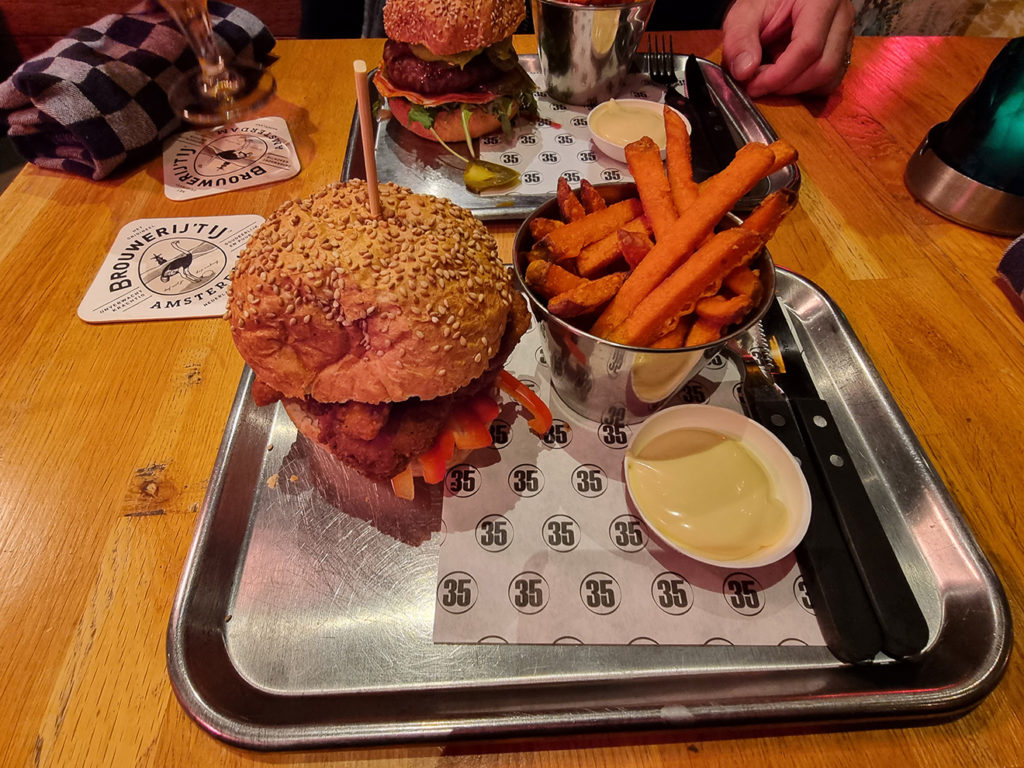 Day 2
Wednesday, November 17th was a day with lectures and workshops. It was a day with parallel sessions during the day for both teachers and students to join. In the afternoon the coaches had a session where we watched and assessed the pitch videos from the teams and did some preparations for the team presentations on the next day. A well-planned day, with interactions, discussions, and new impressions to reflect on. The subjects and the timetable for day 2 are included as a picture.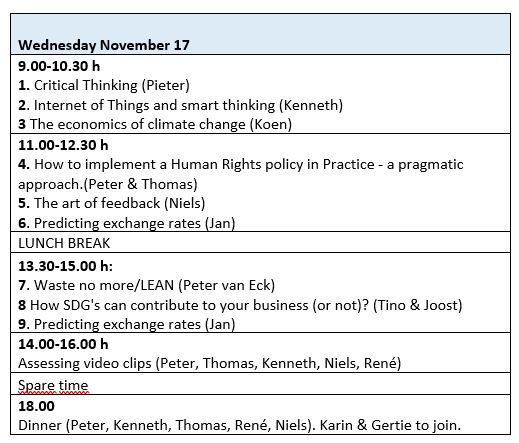 After a short walk and a break at the hotel, the day ended with a culinary dinner in a southern European street environment. It felt quite surreal for a northerner to experience this in mid-November. Many thanks to the host and the company for a lovely evening.
Speaking of which, during a visit like this, there is a lot of walking. The City center of Den Bosch is not that big and the Old Town was just a stone's throw away from the hotel, so it was a pleasure to get some exercise at times. We were lucky with the weather with some raindrops during one of the days, but just for a couple of hours.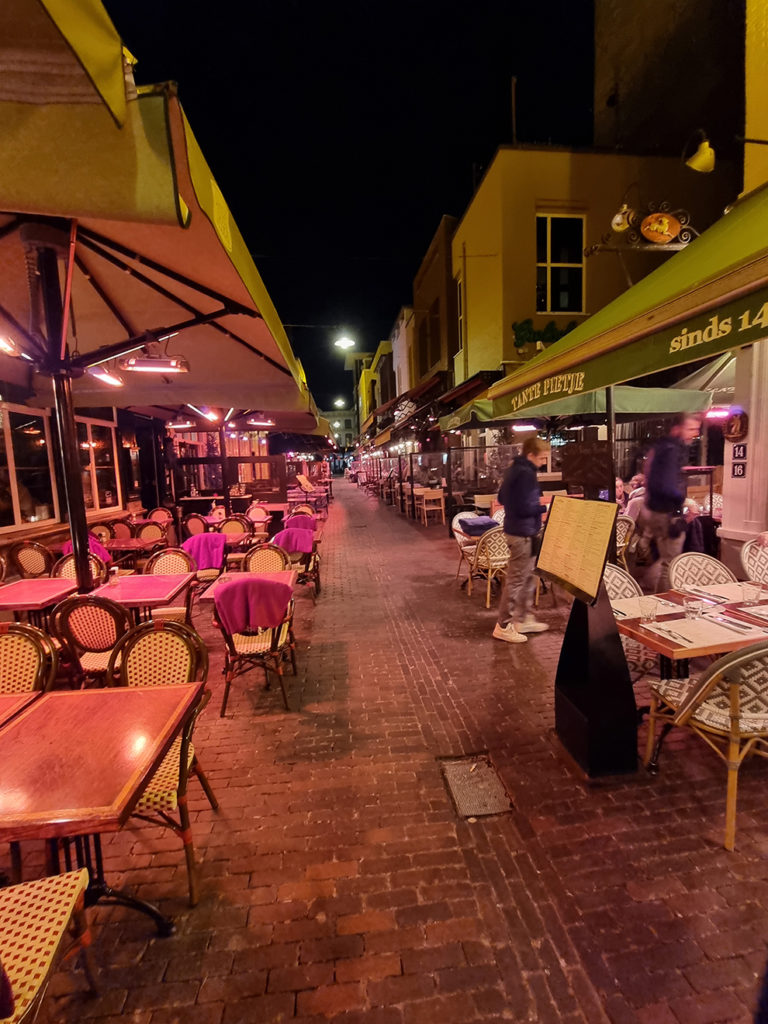 The pitch video presentations
Since the participating students and teachers had met in Vaasa for the first time in September, we had been working on a case with Wärtsilä's CSR department as a client. The case was about the implementation of Human Rights policies in global companies, very topical at the moment. The nine teams presented the results in a written report and the form of a pre-recorded video pitch. The video pitches were sent to the client one day before the presentation. At the actual presentation the videos, 3-5 minutes long, were shown to all teams, coaches, and, of course, to the client who participated online.
I have to mention, and I think all participants would agree, that I'm astonished by both the creativity and technical knowledge the students possess. It was a pleasure to watch the pitches, some spiced up with loads of humor although the topic is a serious one. One by one the pitches were shown, and Alina and Harri from Wärtsilä commented and asked follow-up questions. With the addition of feedback from the teachers, the students had a chance to finalize the written reports within two weeks from the presentations.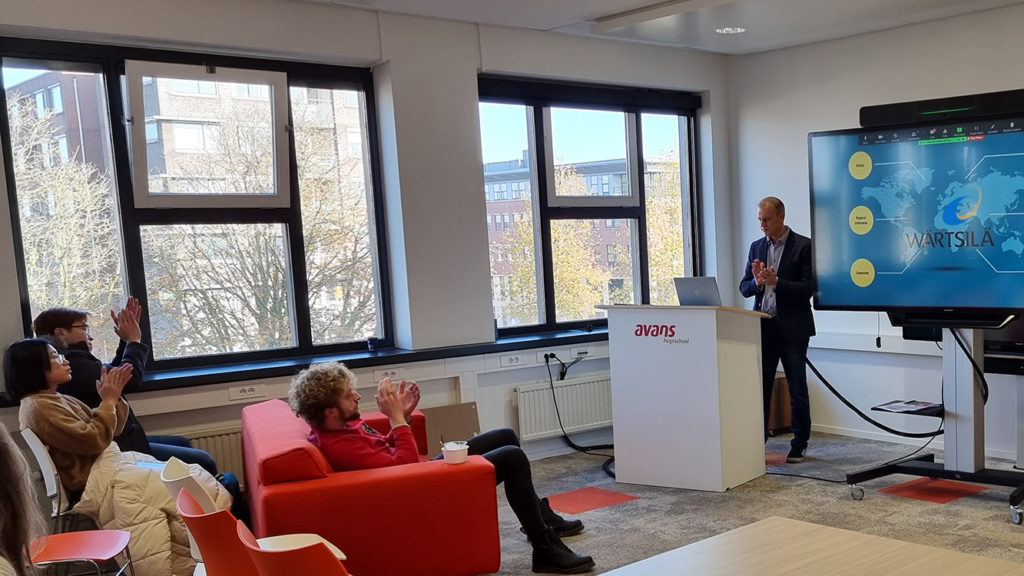 Time to leave
Friday was our travel day, so the host planned a farewell dinner with the closest colleagues on Thursday evening. These are the persons that we have worked with during the past years. The educational collaboration on this minor has been a success and very beneficial for both our Universities of Applied Sciences. We have engaged both teachers and students and offered opportunities to have new experiences and grow as professionals and as individuals. We have engaged people from working life, as in the Wärtsilä case, and allowed them to discuss and brainstorm ideas with students. Upon all this, we have done it in an international environment and, when needed, found online solutions in the most challenging situation of the COVID-19 pandemic.
We have found a working concept built on collective learning, peer mentoring, and peer support with a working learning environment and with supporting technical tools. The concept is good and we can from experience say that it works. It might even apply to other partners as well. That has yet to be seen. This kind of success is not built on official structures and a heavy administration. No, it is rather built on informal contacts and social interaction, which have built trust in each other. Yes, we can do it. Yes, we did it.
The importance of trust and its impact on success can be found also in the literature. Here is a quote, a free translation into English, from a book by Svendsen G. T. from 2014:
"The first significant factor in community peer support (e.g., a learning circle) is whether community members can create an environment in which individual community members trust each other. An individual participant in a community gets significantly more added value from an activity if he or she can trust other members of the community and this is also likely to correlate with the happiness of the individual. If we extend our trust beyond that community to society as a whole, it will likely correlate with the happiness we experience as a whole." (Svendsen 2014, 30).
The Thursday dinner was a convivial get-together with discussions ranging from family matters to the taste of different beers. Some serious discussions, but a lot of laughter and even some planning for the next set of the minor. In short, we had a great time. Any relationship that leads to long-term cooperation is based upon trust, involvement, and loyalty. The same elements also form a friendship. In other words, we consider our Dutch colleagues to be our friends. Consequently, this traditional farewell dinner is both a celebration of a well-landed project as well as a confirmation of continuing cooperation.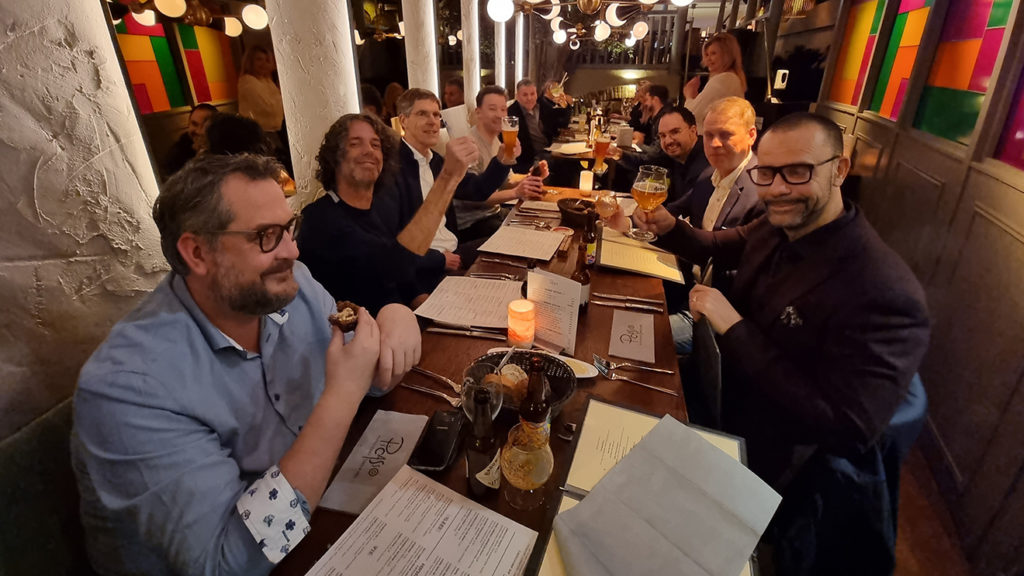 The trip home
Then came Friday and it was time to embark on our journey back home. After one hour on a train from Den Bosch to Schiphol, we took the 14:00 KLM flight from Amsterdam to Helsinki and the 19:25 Finnair flight took us from Helsinki to Vaasa where we arrived at 20:35.
To summarize the week, one could say that it was a quite busy week with new impressions to take in and new people to meet, not to mention all the preparations that we all made before the trip. Nevertheless, the trip was rewarding and this was a memorable stay both professionally and privately. Den Bosch is a picturesque city with nice and friendly people, so we warmly recommend a visit.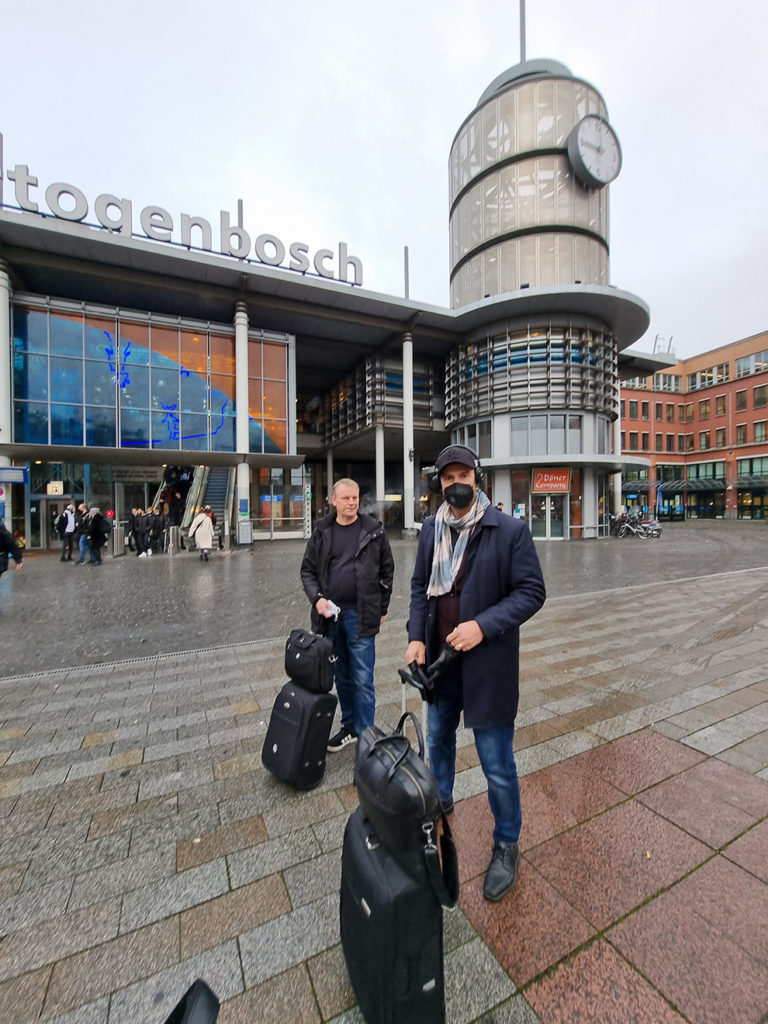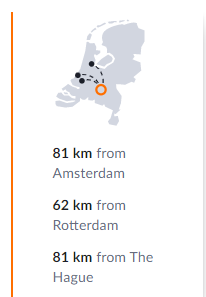 Why go to Den Bosch? (Source: Holland.com)
"'s-Hertogenbosch, which we call Den Bosch these days, is a wonderful city full of historic buildings, wonderful museums, great shops, and welcoming cafés and restaurants. Go for a stroll and discover the medieval architecture, take a boat tour of the centuries-old canal system, or go for a bicycle ride along the fortresses. Den Bosch has many beautiful attractions on offer. Even more importantly, it has a warm and welcoming atmosphere. Jazz cafés, little restaurants, trendy bars – Den Bosch natives know how to enjoy the good life."