About the Event
OpinTori is part of the University of Oulu's Faculty of Education's University Pedagogy Studies. The key idea of this event is on sharing good practices for teaching, supervision, studying and learning in higher education. The themes for this year's event were: Hybrid teaching and learning, digital pedagogy, student-teacher interaction and student motivation. More information can be found from event's website
https://opintori22.wordpress.com/#about.
The University of Oulu main campus (Linnanmaa campus), is located around five kilometres north of Oulu city centre. The campus has a modern but cosy environment with plenty of group working spaces and common lobbies on the campus (See figure 1 and 2 below).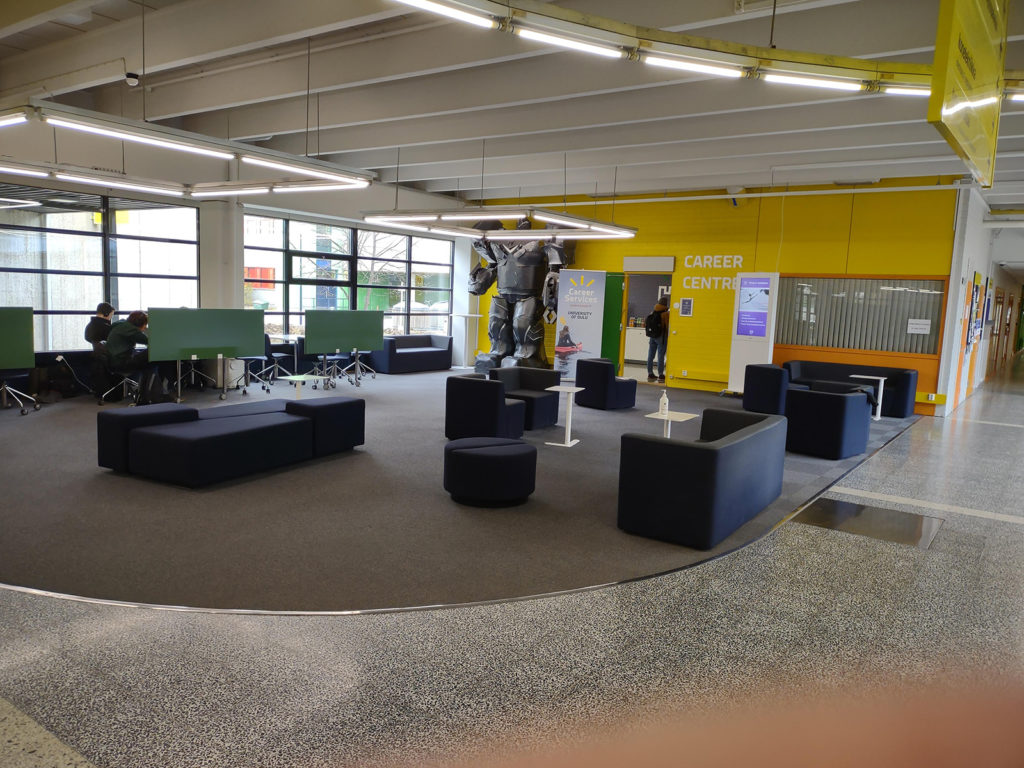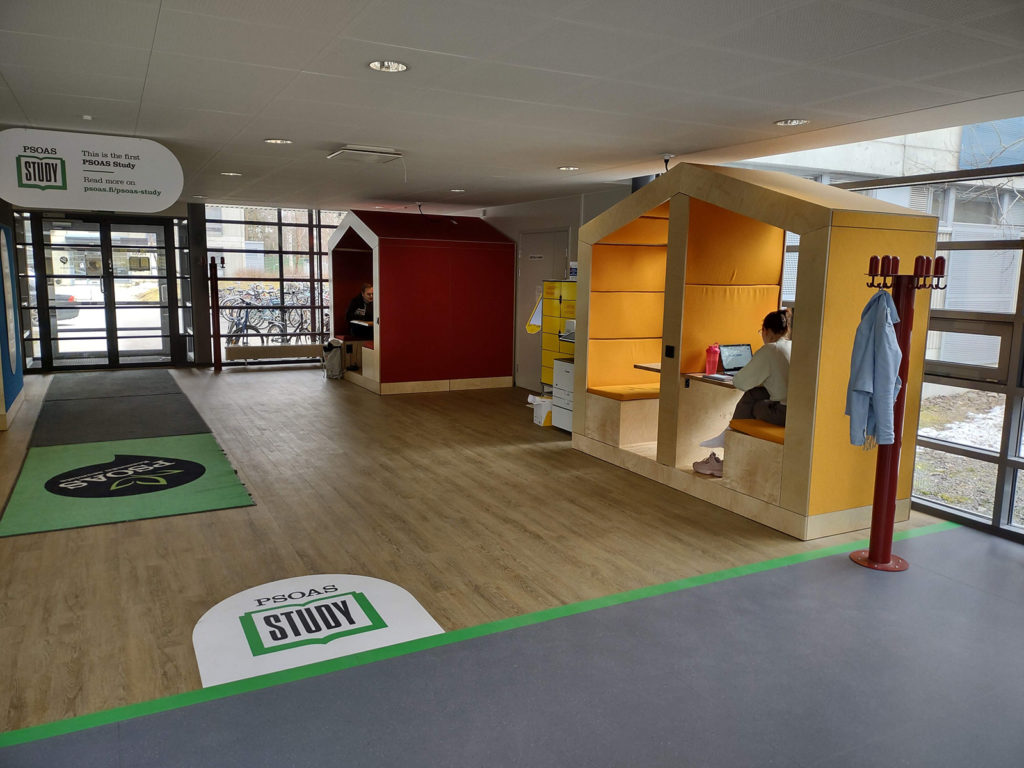 Event highlights
The event was structured in five sessions. In total the event staged 45 presentations in five different lecture halls around the university campus. I participated in 14 presentations in addition to the final panel discussions. This article presents highlights from the following five presentations.
Keynote presentation: Hybrid learning, what makes it to succeed? (Sari Pramila-Savukoski and Tiina Törmänen)
Digital tools and video services at the University of Oulu Digi pedagogy, (Antti Peltonen).
Open Badge Factory, (Leena Paaso and Timo Hakkarainen)
Digital tools YuJa and Presemo, (Antti Peltonen)
Masters' thesis supervision reconsidered: How to address the common pitfalls in writing the thesis? (Jenni Myllykoski)
Hybrid learning, what makes it to succeed?
In this presentation the researchers presented the challenges and opportunities experienced in hybrid and distance learning. The main segment of this presentation was an example case-video that presented a fictional but nevertheless a very realistic example day in life of a teacher trying to arrange a hybrid lecture for the first time. The video was part of the research conducted in health science education at Oulu University during 2021. In conclusion to the video, the researchers gave some practical tips, as shown in figure 3 below, to keep in mind when designing a hybrid lecture or seminar. The researchers argued that cognitive (expressions about metacognition, monitoring, planning, reflecting the learning process) and the socioemotional interaction (expressions about feelings, motivation, positive, negative emotions) are meaningful for collaborative learning. The researchers are further aiming to develop a model for health science education and innovative self-assessment instrument for teachers/educators to assess the competence of the hybrid synchronous teaching and learning. More information and video can be found from the Learn Hybrid blogspot, which also displays other interesting articles and studies in hybrid learning and digital pedagogy.
http://www.learnhybrid.blogspot.com/.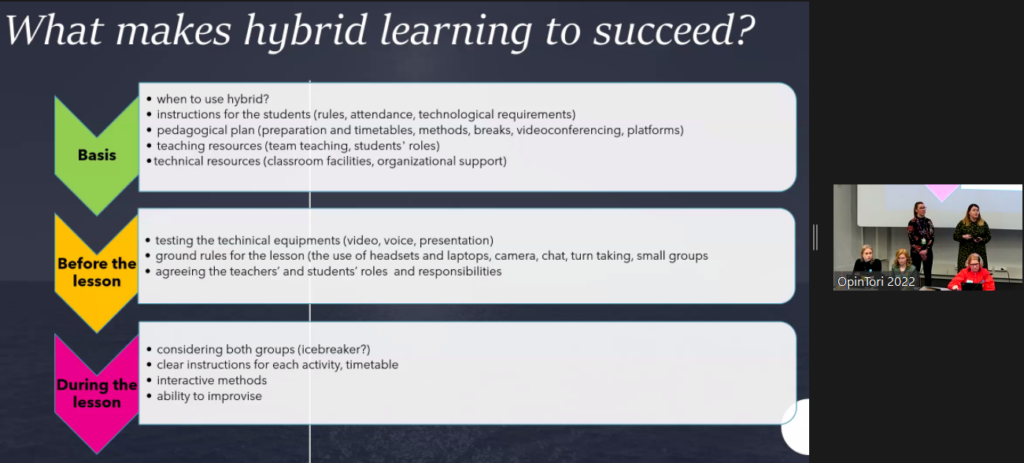 During the presentation comments from the audience were collected using Mentimeter and Presemo tool. The audience was invited to posting comments on the benefits, challenges and the key elements of success in hybrid learning. The audience comments can be seen from Figure 4 below.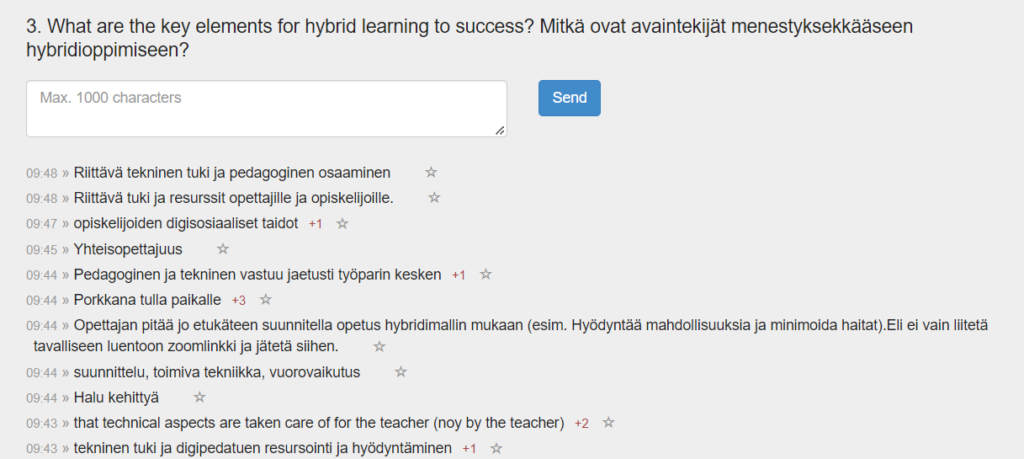 Digital tools and video services at the University of Oulu Digi pedagogy
The presentations in this module were done using the PechaKucha style of presenting. The word itself has Japanese origins and is pronounced "pet-cha koo-cha" and plainly translated means "chitchat". This method put's the students in an "Fast pace" mode and they must be very familiar to the subject matter being presented. For more information on PechaKucha (see https://www.pechakucha.com/categories/education)
Open Badge Factory
In this presentation the speakers shared information on how they have been able to successfully integrate digital badges in Moodle environment at the university. The Finnish translation for open badge is "Osaamismerkki". The basic idea behind digital badge is that it is used as a motivator and a prize for achievements for the students. The value to the badge comes from the metadata or text information that is attached behind the badge. Students can have their own online badge portfolio where they can collect badges from different institutions (see figures 5 and 6).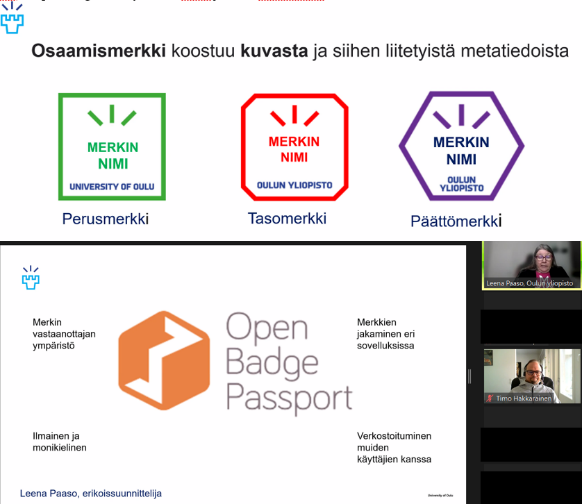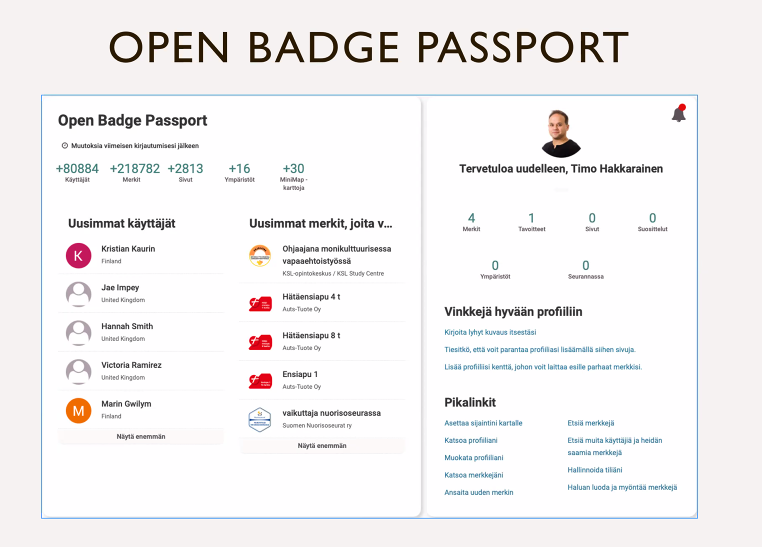 What makes open badges more interesting to students and teachers equally is that, badges can be integrated directly to Moodle environment. Digital badges help teachers to acknowledge student's achievements and motivate them to gather even more badges to their passport. More detailed information can be found from the Badge Finland website https://tieke.fi/palvelut/osaamisen-kehittaminen/badgefinland/.
Digital tools YuJa and Presemo
These two tools have been under testing and active use in the University of Oulu as well as OAMK. This presentation displayed the functions and advantages of Presemo and Yuja, when used in teaching.
Presemo, is an online (internet based) collaboration tool where the presenter or lecturer can invite active participation from the students or audience. Presemo tool works from any internet browser, so their students do not need to install any additional programs. The university and OAMK are using Presemo tool for various activities such as lessons, meetings, events, message boards, online queries, voting, opinion gathering short online tests and to gather instant feedbacks from event participants and students. Participants do not need to login to the service and anyone even outside the organisation can simply join in via a dedicated event link. Here are some examples how Presemo was used during the OpinTori22 event (see figures 7 and 8)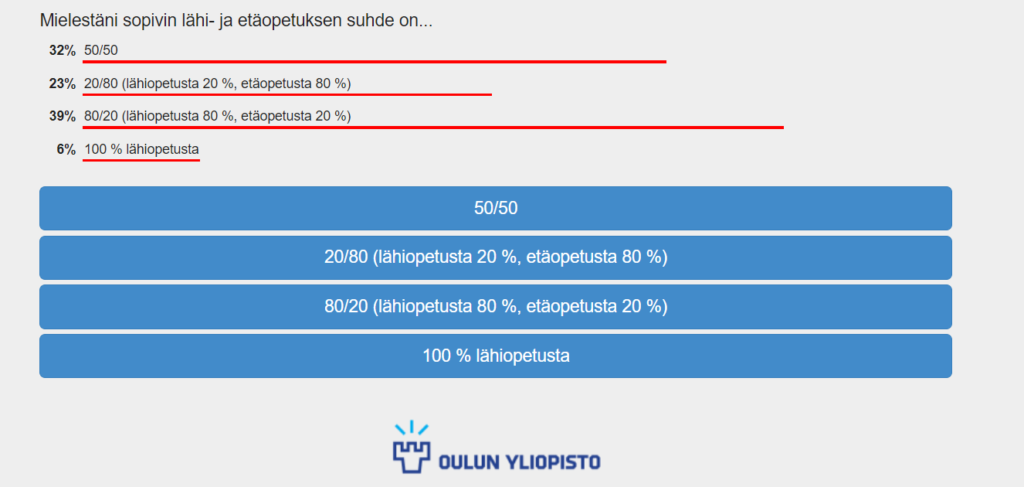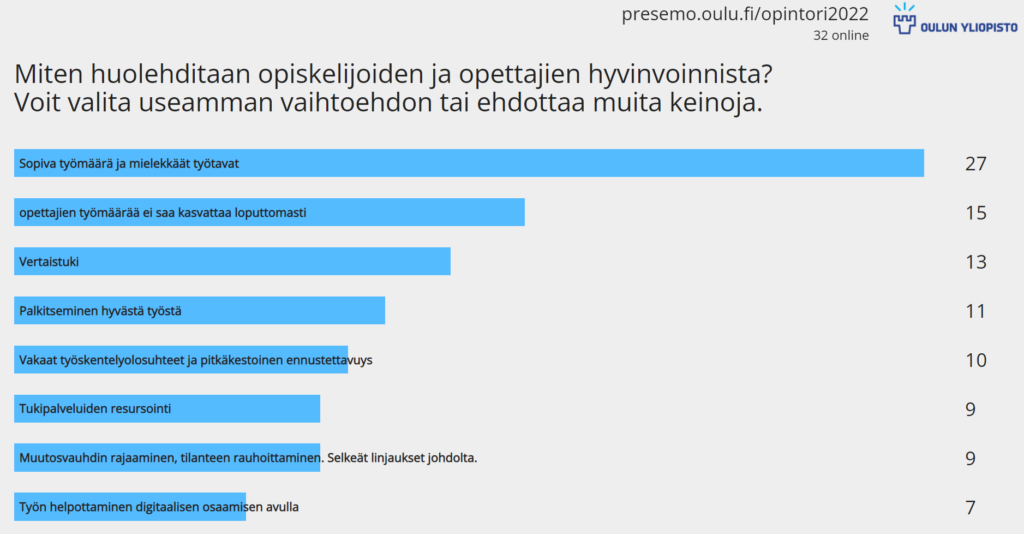 More information and video on Presemo can be found from Aalto university link https://wiki.aalto.fi/display/OPIT/Presemo, and also from Oulu university link https://ict.oulu.fi/17248/?lang=en.
The second tool displayed was the media editor and management tool called YuJa (see figure 9). Students and staff can use this media editor service to store, edit and share video lectures or assignments. YuJa features automatic captioning in several languages including Finnish. The captions can be manually edited in an easy to use browser-based tool. This tool has been in use both for teaching and for assignment submission by students at OAMK and Oulu University. Videos made with YuJa are perfectly compatible to be embedded directly in to Moodle course pages. More information on YuJa tool can be from Oulu University link https://ict.oulu.fi/17171/?lang=en.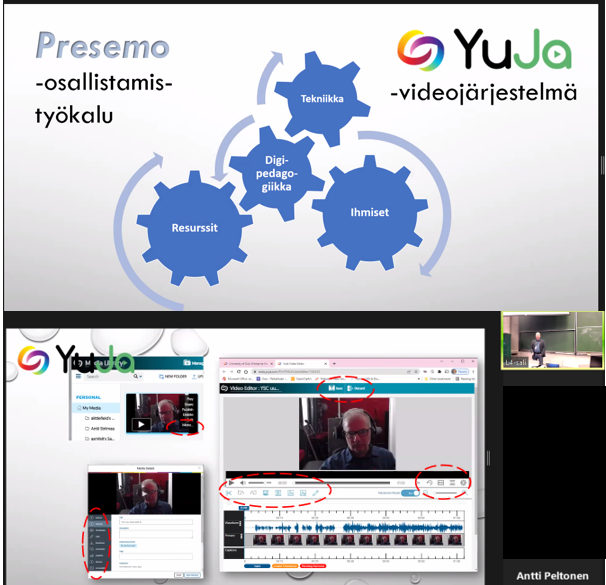 Masters' thesis supervision reconsidered
The presenter has been undergoing her teacher's training at the Faculty of Education, and she presented her research as part of her pedagogical studies. In her observation, only nine out of 23 enrolled students start their master's thesis process as planned according to curriculum. Of these only six students manage to finalise their thesis in provided duration and graduate on time in the case institute. Thesis supervision is done in three sessions (see figure 10). The first session is around 20 minutes and the supervisor and student discuss the details on the research topic. In the second session the student will present an intermediate report of the thesis and research progress and the time allocated is around 30 minutes. In the third and final session the student presents their final thesis and the supervisor discusses together with the student for 40 minutes.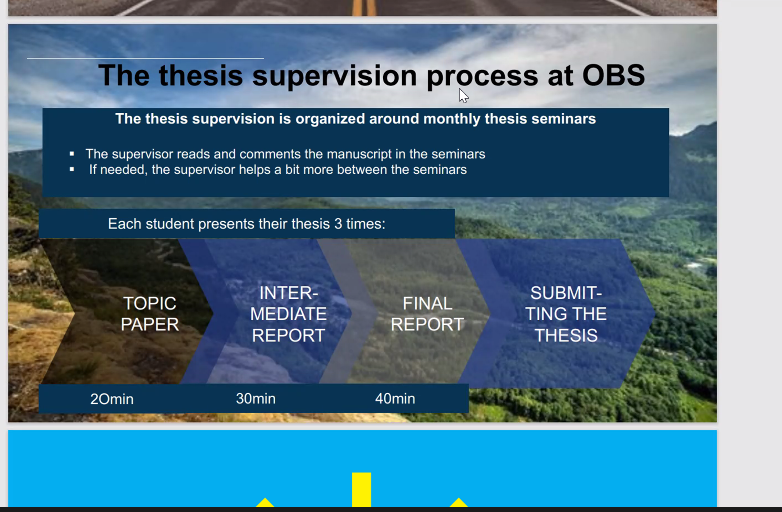 In conclusion, the researcher presented implementation of certain checklists for the supervisors to guide them in the proactive supporting of thesis supervision and updated instructions for streamlining supervision practices (see figure 11).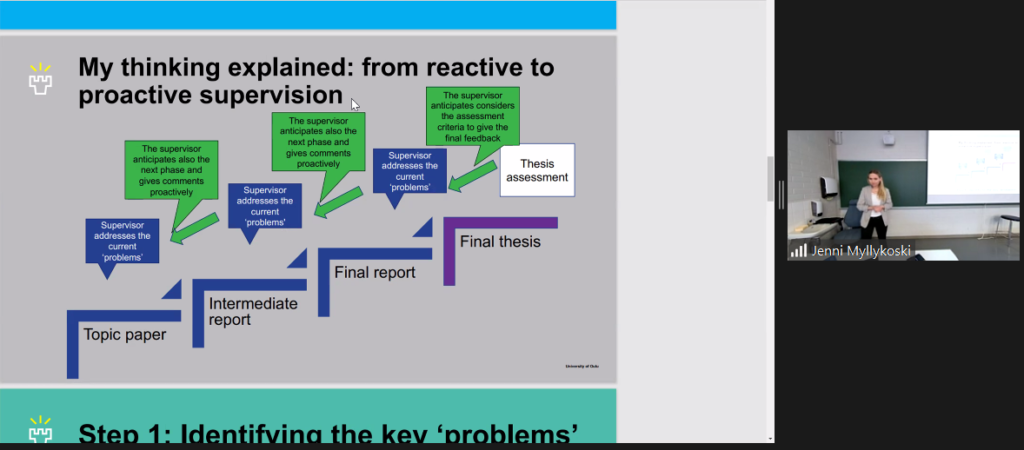 In conclusion
The final session of the OpinTori22 event were the panel discussions. The panel discussed on many issues such as advantages and challenges of digitalisation in teaching, student engagement and participation, hybrid learning and hybrid pedagogy. The comments from audience regarding the future developments in higher education are presented below in figure 12. The results show that teachers wellbeing, appropriate resourcing, and motivation and skills of the teacher are the key critical factors for future development in digitalised learning environment.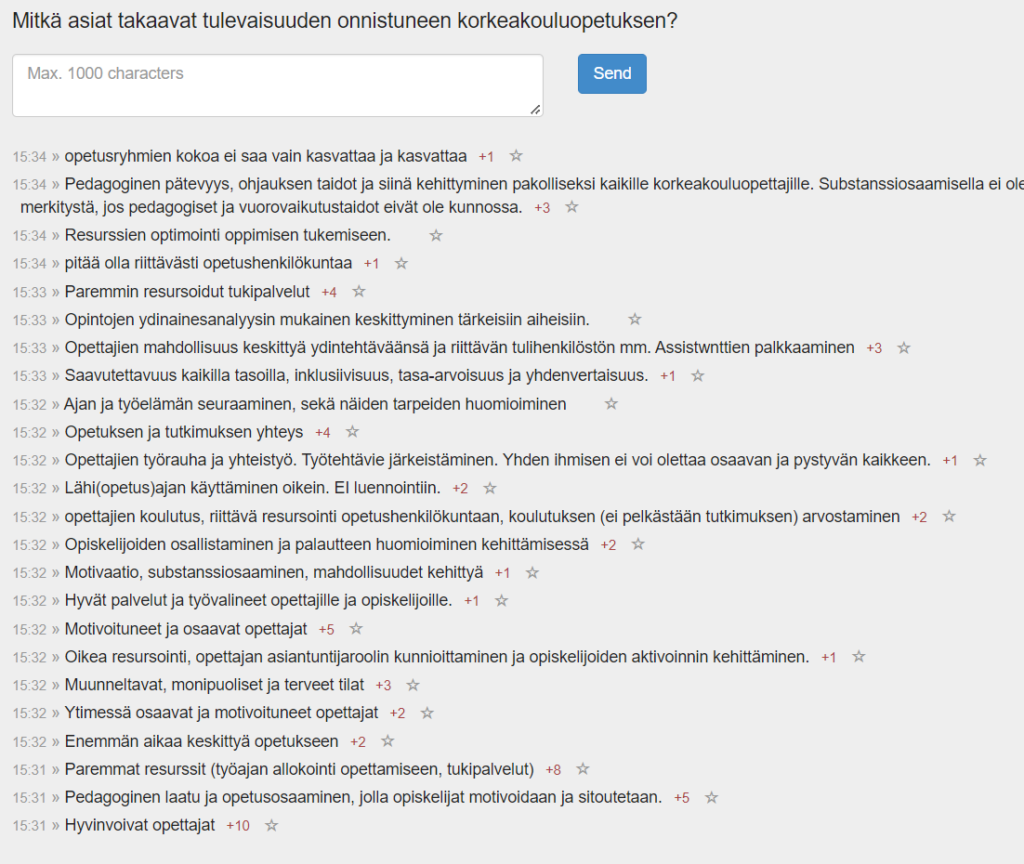 Overall, the event was very successful and beneficial. The topics discussed during the event were at the heart of pedagogical development at higher education. My top three take-aways from this event were as follows.
Digital tools and digitalisation of education are only "Enablers" or "Facilitators" to increase understanding or involvement. The focus needs be on knowledge transfer, human interaction and inspiring students to learn and research.
Digitalization does not guarantee student participation and involvement. Student's self-motivation and curiosity to learn will always have profound impact on student's involvement.
The lecturer or the teacher is only one small part in the whole process of education. The supporting infrastructures, IT infrastructures, student counselling, course scheduling, institutional administration and many other systems, all together play a major role in making any learning ecosystem successful
Finally, my sincere thanks to VAMK Director of Education Sanna Eronen for informing and inspiring me to join this event, and special thanks to VAMK Head of Department of Energy and Environmental Technologies, Riitta Niemelä for enabling and encouraging me to travel to Oulu and to participate in the event in person.